100% SILICONE BABY PLATES
Congrats! Your baby is ready to use their own plate! Skip the plastic and discover the benefits of silicone. Kiddiebites is the only company to make silicone kids' plates in the USA. Silicone (the same material as baby bottle nipples and sippy cup tops) is versatile, inert, long-lasting, and safer than plastic.
Kiddiebites has the best premium plates for babies and toddlers learning to eat on their own. All of our silicone baby dishes are free from BPA, BPS, lead, cadmium, phthalates, and PVC. Head over to our Care & Safety page to read our Third Party Testing results.
We are proud to be the only company that makes children's silicone plates in the USA! Shop for the plates that best suit you and your baby.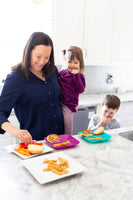 HOW IT ALL BEGAN
Denise Kulhan, a Stay-at-Home Mom and founder of Kiddiebites, was looking for a safe plate for her son. When she didn't find what she was looking for, she decided to make it herself!
our story
THE SAFER SILICONE BABY PLATE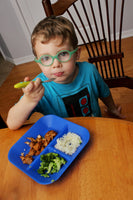 Testimonials
We love our silicone plates from Kiddiebites! With plastic dishes, I've been worried about chemicals leaching in my baby's food, and my little one has such fast hands that anything breakable is not an option.

Svenja G.
We highly recommend this product! A sturdy made in the USA 100% silicone plate at a great price point. The deep divides are perfect and we don't have to worry about broken dishes or nasty chemicals leaching into our children's food. Will be ordering more plates in the near future!! A must buy!

Vincent B.
We love these plates! The kids love the divided sections, they clean super well, and I love knowing that these are made of the best material out there - and made in the USA!

Jess Q.
Very pleased with these plates. Not only are they non-toxic for my kids, but they also just look sleek and cool. I get tired of tableware covered in cartoon characters and these plates are a welcome change. I also like that they are foldable so I can fit in my purse to take to a cookout or restaurant.

Chris T.
My toddler and I love these plates. They are environmentally safe and easy for my toddler to get the food out of his plate. It's easy to wash too! Will be buying more soon!

A. Paxton
I love that these are Made in the USA, are microwave safe, dishwasher safe, and stack on top of each other for easy storage. These plates are not suctioned on the bottom but they fit perfectly on the highchair. They are thick and very well made; I would definitely purchase these again!

J. Adams
Absolutely love this product. Easy to clean, safe.
The perfect child plate. Best part- made in the USA

Sheila D.
I bought two of these, and I am very pleased. I have been using them for several weeks, and they are well-designed, easy to clean, and most importantly they are safe. I have confidence in a produce that is 100% silicone AND made in the USA - some of the stuff made in China makes me uneasy.

Nick F.